May
23
It has been shown in small RNA sequencing-based studies that some small RNA fragments are specifically processed from known structural non-coding RNAs, either through Dicer-dependent or Dicer-independent pathways. Although these small RNAs are often less abundant compared to microRNAs in normal mammalian tissues, they are always present in all sequenced libraries. In this paper, researchers from the Institut Curie, France use the ncPRO-seq pipeline, to describe different profiles of these small RNA fragments, and to discuss their potential processing pathways and functions. To assess whether more small RNA fragments can be detected in small RNA sequencing datasets, they decided to focus on small nuclear RNAs, abbreviated as snRNAs, which are associated with Sm ribonucleoproteins to form functional RNA-protein complexes. Here, they describe a group of small RNA fragments derived from snRNAs, which are typically highly enriched in regions bound by Sm proteins. Based on this, they propose the existence of a potential novel small RNA family associated with Sm proteins.
Chen CJ, Heard E. (2013) Small RNAs derived from structural non-coding RNAs. Methods [Epub ahead of print]. [astract]
Incoming search terms:
Apr
26
This tutorial shows the analysis of a simple RNA-Seq experiment containing two samples and goes through the process of quantitating and normalising the data, before going on to perform a simple differential expression analysis.
Incoming search terms:
www rna-seqblog com analysis-of-a-simple-rna-seq-experiment
analysis of a simple RNA-seq experiment
rna seq principles
wt mutant rna-seq
:www rna-seqblog com analysis-of-a-simple-rna-seq-experiment
Mar
20
Finding genes that are differentially expressed between conditions is an integral part of understanding the molecular basis of phenotypic variation. In the past decades, DNA microarrays have been used extensively to quantify the abundance of mRNA corresponding to different genes, and more recently high-throughput sequencing of cDNA (RNA-Seq) has emerged as a powerful competitor. As the cost of sequencing decreases, it is conceivable that the use of RNA-Seq for differential expression analysis will increase rapidly. To exploit the possibilities and address the challenges posed by this relatively new type of data, a number of software packages have been developed especially for differential expression analysis of RNA-Seq data.
Scientists at the Swiss Institute of Bioinformatics have conducted an extensive comparison of eleven methods for differential expression analysis of RNA-Seq data. All methods are freely available within the R framework and take as input a matrix of counts, i.e. the number of reads mapping to each genomic feature of interest in each of a number of samples. They evaluated the methods based on both simulated data and real RNA-Seq data.
The found that very small sample sizes, which are still common in RNA-Seq experiments, impose problems for all evaluated methods and any results obtained under such conditions should be interpreted with caution. For larger sample sizes, the methods combining a variance-stabilizing transformation with the 'limma' method for differential expression analysis perform well under many different conditions, as does the nonparametric SAMseq method.
Soneson C, Delorenzi M. (2013) A comparison of methods for differential expression analysis of RNA-Seq data. BMC Bioinformatics 14(1), 91. [article]
Incoming search terms:
swiss institute of bioinformatics rna seq
differential gene variance expression
rna-seq differential expression bayesian vs cuffdiff
differential expression in rnaseq
rsem deseq workflow
rna expression methods ppt
time course seq differentially expressed
rna seq expression
Overdispersion RNA-seq cummeRbund
course differential expression 2013
Mar
14
Next-generation RNA-sequencing (RNA-Seq) is rapidly outcompeting microarrays as the technology of choice for whole-transcriptome studies. However, the bioinformatics skills required for RNA-Seq data analysis often pose a significant hurdle for many biologists. Here, researchers at Utrecht University, The Netherlands put forward the concepts and considerations that are critical for RNA-Seq data analysis and provide a generic tutorial with example data that outlines the whole pipeline from next-generation sequencing output to quantification of differential gene expression.
Van Verk MC, Hickman R, Pieterse CM, Van Wees SC. (2013) RNA-Seq: revelation of the messengers. Trends Plant Sci [Epub ahead of print]. [abstract]
Incoming search terms:
rna-seq revelation of the messengers
rna-seq data pipeline
Differential Gene Expression heatmap from RNA-Seq data using cummeRbund
rna-seq: revelation of the messengers
ngs data analysis pipeline ion torrent
sigma semi-degenerate primer
spike-in normalization rna-seq
shrimp mirna ion proton
miRNA-seq analysis pipeline
mirna pipeline
Jan
24
GitHub helps people build software together.
yarden/MISO
MISO: Mixture of Isoforms model for RNA-Seq isoform quantitation
jrbustosm/rna-seq
rna-seq analysis utils
drli/RNA-seq
RNA-seq data analysis
andymckenzie/RNA-Seq
algorithms for analyzing rna-seq data
jnhutchinson/ensembl_based_RNA_seq
ensembl_based_RNA_seq
vsbuffalo/rna-seq-example
An analysis of Arabidopsis RNA-seq data (hy5 mutant and wt, two replicates each; SRA accession SRX029582)
fatPerlHacker/rna-seq-analysis-pipeline
sgivan/RNA-Seq-Toolkit
Collection of scripts to facilitate the analysis of RNA-Seq data
gusevfe/RnaSeqAB
Tool for detecting allele bias in Genome vs. RnaSeq data
luwening/RNA-Seq-RP-Pseudogenes
Lots more shared RNA-Seq Code…
Incoming search terms:
rna-seq pipeline code
github tophat cufflink toolkit
microrna analysis from est github
RNA-Seq Data Analysis (Tophat Cufflinks Pipeline)
Jan
23
For those who missed it… here are the slides from the recent short training class presented by the Bioinformatics & Research Computing group at the Whitehead Institute.
January 17, 2013 – RNA-seq Analysis in Galaxy
Hands-on 1 Quantification and assay for differential expression of reference annotation
Incoming search terms:
rna sequencing training course in the bay
galaxy
galaxy rnasew variant calling
galaxy training course RNA
glalaxy DNAseq
lgtsyereptyzpejp
RNA seq glaxy cummerbund
single end samples rnaseq analysis in galaxy
Dec
11
Incoming search terms:
visulize rna seq data in r bioconductor
RNA-seq bioconductor
rna-seq bam plot
rna-seq bioconductor ptt file
rna-seq data analysis using r
RNASeq ( bam file) data analysis using R
rnaseq analysis using r
SNP analysis of RNA seq using bioconductor
Statistics and Data Analysis for Microarrays using R and bioconductor
statistics and data analysis for microarrays using r and bioconductor depositfiles
Dec
7
In recent years RNA-Seq technology has been used not only to quantify differences in gene expression but also to understand the underlying mechanisms that lead to these differences. Nucleotide sequence variation arising through evolution may differentially affect the expression profiles of divergent species. RNA-Seq technology, combined with techniques to differentiate parental alleles and quantify their abundance, have recently become popular methods for allele specific gene expression (ASGE) analyses. However, analysis of gene expression within interspecies hybrids may be difficult when one of the two parental genomes represented in the hybrid does not have robust genomic resources or available transcriptome data. Read more
Incoming search terms:
rna seq allele specific expression
allele-specific expressions
combining individuals from two populations rna-seq assembly
rna-seq workflow hybrid assembly strategy
allele specific ecpression
what is allele specific expression?
how companies able to pinpoint particular alleles
allele RNA-seq data reference genome
allelic specific expression
Identification of transcriptome SNPs between Xiphophorus lines and species for assessing allele specific gene expression within F-1 interspecies hybrids
Dec
6
posted by bodhisattvax at Biostar
Hi all I've finally put together the results of the survey! First of all, thanks to everyone who participated – the response has been great, with 93 people completing the survey as of today.
The respondents have been a varied bunch, including all levels of academia (pre-docs, grad-students, pot-docs and PIs), core bioinformaticians and bioinformatics managers, as well as many from the industry. The majority of respondents appear to be based in the US and Europe but also in China, Korea and Australia.
I provide below my own summary of the survey's findings, and I have a document which contains all the results, including all unedited comments. I'm not sure how I can upload this file on this site. If you would like it, please either check my post on seqanswers where I have been able to upload the file, or get in touch with me so I can email it to you. Biostars admins can you help here? Read more
Incoming search terms:
rna-seq statistical methods
cufflinks normalize
the Tuxedo suite rna
univ of chicago rnaseq workflow
Oct
31
Next generation sequencing technology provides a powerful tool for measuring gene expression (mRNA) levels in the form of RNA-sequence data. Method development for identifying differentially expressed (DE) genes from RNA-Seq data, which frequently includes many low-count integers and can exhibit severe overdispersion relative to Poisson or binomial distributions, is a popular area of ongoing research.
Here, researchers at National Institute of Standards and Technology present quasi-likelihood methods with shrunken dispersion estimates based on an adaptation of Smyth's (2004) approach to estimating gene-specific error variances for microarray data. The suggested methods are computationally simple, analogous to ANOVA and compare favorably versus competing methods in detecting DE genes and estimating false discovery rates across a variety of simulations based on real data.
An R package called QuasiSeq, used to implement the suggested methods of this article is available from the CRAN website: http://cran.r-project.org/web/packages/QuasiSeq/index.html
Lund SP, Nettleton D, McCarthy DJ, Smyth GK. (2012) Detecting Differential Expression in RNA-sequence Data Using Quasi-likelihood with Shrunken Dispersion Estimates. Stat Appl Genet Mol Biol. 11(5). [article]
Incoming search terms:
pineapple
rna seq log transformation
yhs-mystartdefault
quasiseq rna-seq
ananas chibi
pineapple chibi
piña
steps in rna sequencing
What is index read mean for MiSeq
rnaseq quasiseq
Oct
29
UZH/ETH – FGCZ – Functional Genomics Center Zurich
www.fgcz.ch/
The Functional Genomics Center Zurich (FGCZ) is a joint state-of-the-art research and training facility of the ETH Zurich and the University of Zurich. With latest technologies and expert support in genomics, transcriptomics, proteomics, metabolomics, and bioinformatics, the FGCZ carries out research projects and technology development in collaboration with the Zurich Life Science research community.
Incoming search terms:
Oct
17
Transcriptomic sequence resources represent invaluable assets for research, in particular for non-model species without a sequenced genome. To date, the Next Generation Sequencing technologies 454/Roche and Illumina have been used to generate transcriptome sequence databases by RNA-Seq for more than fifty different plant species. While some of the databases were successfully used for downstream applications, such as proteomics, the assembly parameters indicate that the assemblies do not yet accurately reflect the actual plant transcriptomes. Two different assembly strategies have been used, overlap consensus based assemblers for long reads and Eulerian path/de Bruijn graph assembler for short reads.
In this review, researchers from the Heinrich Heine University, Germany discuss the challenges and solutions to the transcriptome assembly problem. A list of quality control parameters and the necessary scripts to produce them are provided.
Schliesky S, Gowik U, Weber AP, Bräutigam A. (2012) RNA-Seq Assembly – Are We There Yet? Front Plant Sci [Epub ahead of print]. [article]
Incoming search terms:
trans-abyss tutorial
reference based transcriptome assembly
merge transcriptome assemblies
Next-generation transcriptome assembly
Oct
1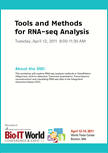 This workshop will explore RNA-seq analysis methods in GenePattern (Alignment, Isoform detection, Transcript quantitation, Transcriptome reconstruction) and visualizing RNA-seq data in the Integrative Genomics Viewer (IGV).
Preview: