RNA sequencing is an indispensable research tool used in a broad range of transcriptome analysis studies. The most common application of RNA Sequencing is differential expression analysis and it is used to determine genetic loci with distinct expression across different conditions. An emerging field called single-cell RNA sequencing is used for transcriptome profiling at the individual cell level. The standard protocols for both of these approaches include the processing of sequencing libraries and result in the generation of count matrices. An obstacle to these analyses and the acquisition of meaningful results is that they require programing expertise. Although some effort has been directed toward the development of user-friendly RNA-Seq analysis analysis tools, few have the flexibility to explore both Bulk and single-cell RNA sequencing.
Researchers at University of Glasgow have developed BingleSeq as an intuitive application that provides a user-friendly solution for the analysis of count matrices produced by both Bulk and Single-cell RNA-Seq experiments. This was achieved by building an interactive dashboard-like user interface which incorporates three state-of-the-art software packages for each type of the aforementioned analyses. Furthermore, BingleSeq includes additional features such as visualization techniques, extensive functional annotation analysis and rank-based consensus for differential gene analysis results. As a result, BingleSeq puts some of the best reviewed and most widely used packages and tools for RNA-Seq analyses at the fingertips of biologists with no programing experience.
Overview of BingleSeq's Bulk RNA-Seq (A) and scRNA-Seq (B) analysis pipelines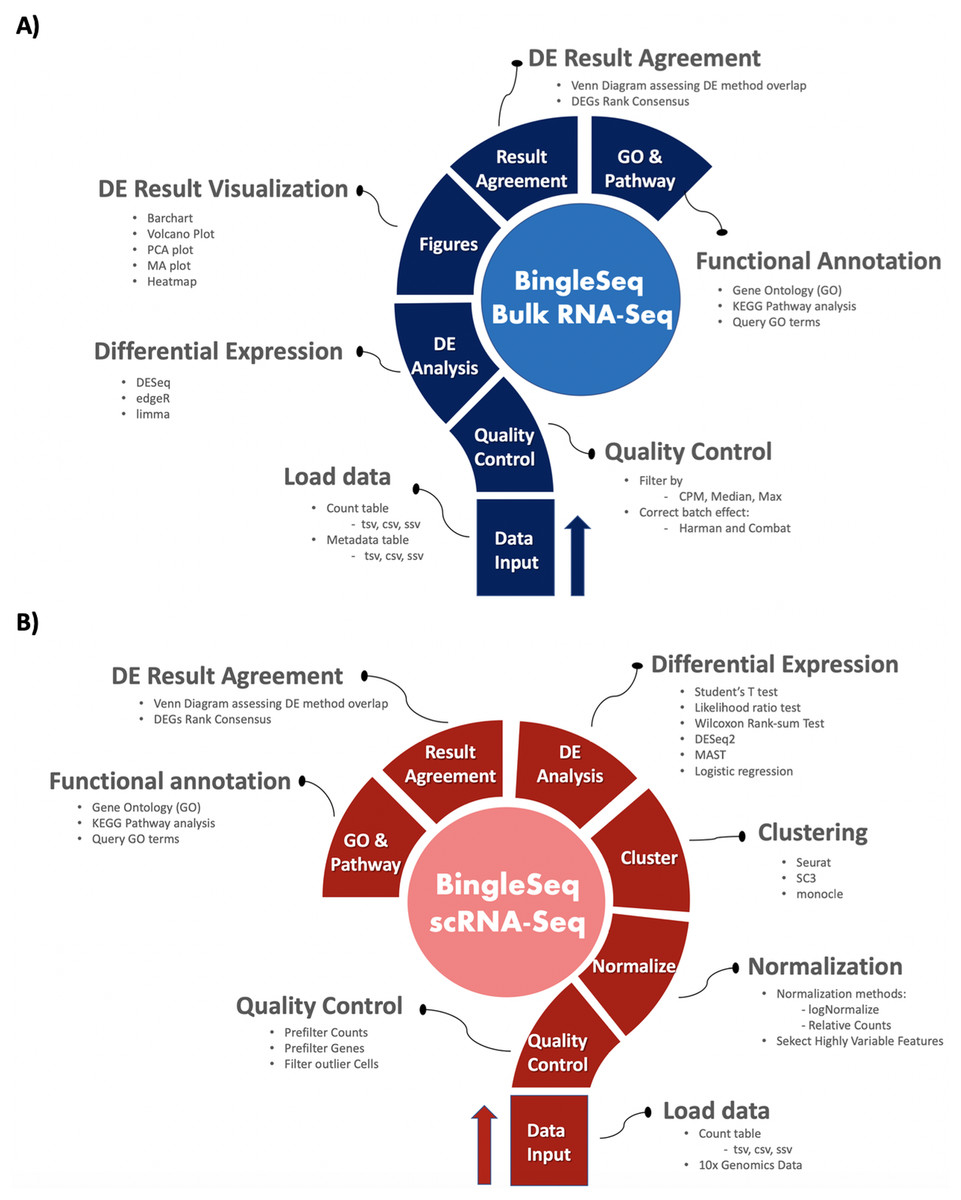 Availability – BingleSeq is as an easy-to-install R package available on GitHub at https://github.com/dbdimitrov/BingleSeq/.
Dimitrov D, Gu Q. (2020)
BingleSeq: a user-friendly R package for bulk and single-cell RNA-Seq data analysis
.
PeerJ
8:e10469. [
article
]