To discover driver fusions beyond canonical exon-to-exon chimeric transcripts, researchers at St. Jude Children's Research Hospital have developed CICERO, a local assembly-based algorithm that integrates RNA-seq read support with extensive annotation for candidate ranking. CICERO outperforms commonly used methods, achieving a 95% detection rate for 184 independently validated driver fusions including internal tandem duplications and other non-canonical events in 170 pediatric cancer transcriptomes. Re-analysis of TCGA glioblastoma RNA-seq unveils previously unreported kinase fusions (KLHL7-BRAF) and a 13% prevalence of EGFR C-terminal truncation. Accessible via standard or cloud-based implementation, CICERO enhances driver fusion detection for research and precision oncology.
Fusion detection using CICERO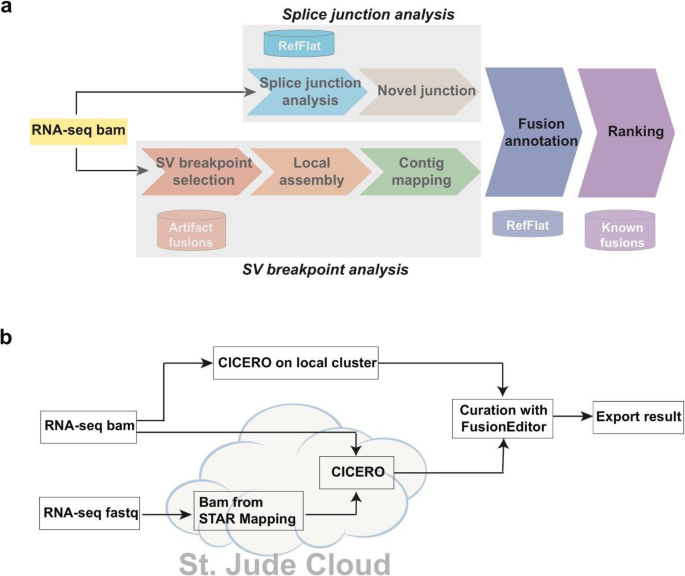 a Overview of CICERO algorithm which consists of fusion detection through analysis of candidate SV breakpoints and splice junction, fusion annotation, and ranking; key data sets used in each step are labeled. b Workflow of fusion detection. A user can submit an aligned BAM file or a raw fastq file as the input on a local computer cluster or on St. Jude Cloud. The raw output can be curated using FusionEditor and final results can be exported as a text file
Availability – The CICERO source code is available at https://github.com/stjude/Cicero.
Tian L, Li Y, Edmonson MN, Zhou X, Newman S, McLeod C, Thrasher A, Liu Y, Tang B, Rusch MC, Easton J, Ma J, Davis E, Trull A, Michael JR, Szlachta K, Mullighan C, Baker SJ, Downing JR, Ellison DW, Zhang J. (2020)
CICERO: a versatile method for detecting complex and diverse driver fusions using cancer RNA sequencing data
.
Genome Biol
21, 126. [
article
]