Investigators from Baylor College of Medicine (BCM) in collaboration with Immunai have published results from a clinical study in which Immunai's technology helped identify BTG1 as a novel molecular target that can be used to enhance the potency of natural killer T (NKT)- and T cell-based cancer immunotherapy. The study was published today in Nature Medicine.
As part of this collaboration, Immunai leveraged its advanced multi-omics platform to analyze clinical samples from an ongoing trial conducted at BCM. These studies led to the identification of BTG1 as a novel driver of NKT cell hyporesponsiveness that can be targeted to enhance CAR-NKT cell anti-tumor function. This discovery has the potential to improve the ability of NKT and T cell therapy products to target and eliminate malignant cells.
BCM conducted extensive in vitro and in vivo studies to validate the superior anti-tumor activity of CAR-NKT cells modified to target BTG1, demonstrating the potential of this approach for use as a cutting-edge therapy. Importantly, CAR-NKT cells genetically modified to target BTG1 were able to overcome exhaustion, a major obstacle for developing effective cell therapy products.
This breakthrough is significant as it opens the door to more effective and targeted immunotherapies to treat a range of malignancies and other diseases. By combining Immunai's expertise in multi-omics platforms with BCM's research capabilities, the collaboration has paved the way for innovative treatment options that could improve patient outcomes worldwide.
Long-term expansion and persistence of GD2-CAR.15 NKTs
in patients with relapsed or refractory neuroblastoma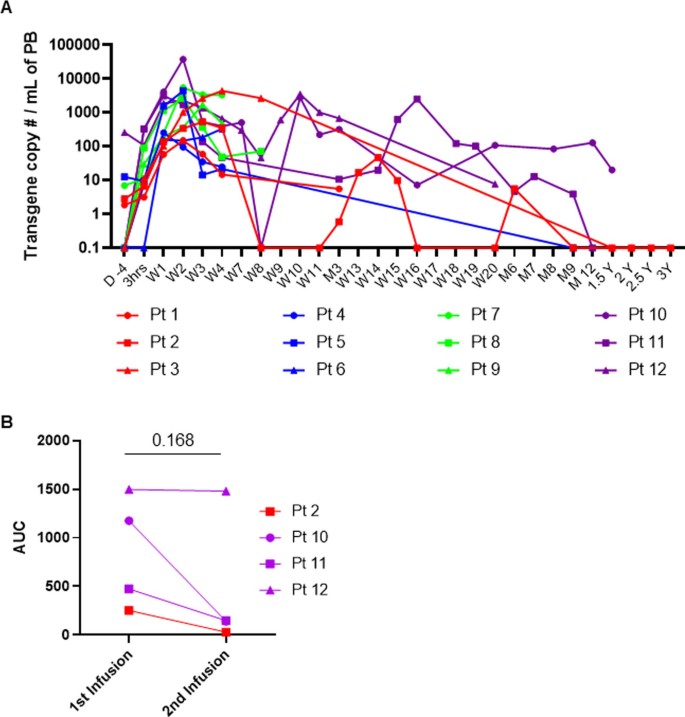 A. Peripheral blood (PB) samples were collected at indicated timepoints and the CAR transgene was detected by quantitative PCR. Patients 10 and 12 were reinfused at approximately week 8 (W8); patients 2 and 11 were reinfused at approximately three months (M3). B. AUC of peripheral blood CAR-NKT absolute numbers in four patients receiving repeat infusions. Two-tailed paired T test.
"This project highlights Immunai's platform capabilities in discovering and improving therapeutics, applicable to diverse types of cell therapies and other immune modulating therapies within oncology and inflammatory diseases," said Noam Solomon, CEO of Immunai. "Immunai has been committed from the beginning to developing its cutting-edge platform to deliver actionable therapeutic insights that have the potential to transform patients' lives, and our work with BCM is also a great reflection of our commitment to improving clinical outcomes with our partners."

"Effectively harnessing knowledge from precious patient samples poses a paramount challenge in clinical research. The state-of-the-art single-cell RNA sequencing technology developed by Immunai allowed us to accurately measure gene expression changes in thousands of individual CAR-NKT cells before and after infusion into patients. The discoveries made during BCM and Immunai's productive collaboration have already resulted in two Nature Medicine publications in less than three years and informed the development of more effective cancer immunotherapy," said Dr. Leonid Metelitsa, Director, Center for Advanced Innate Cell Therapy at Texas Children's Hospital and Baylor College of Medicine.
The study was made possible through a long-standing collaboration between the two organizations structured around joint IP ownership, highlighting the power of combining industry-leading technology with top-tier academic research.
Source – Businesswire
Heczey A, Xu X, Courtney AN, Tian G, Barragan GA, Guo L, Amador CM, Ghatwai N, Rathi P, Wood MS, Li Y, Zhang C, Demberg T, Di Pierro EJ, Sher AC, Zhang H, Mehta B, Thakkar SG, Grilley B, Wang T, Weiss BD, Montalbano A, Subramaniam M, Xu C, Sachar C, Wells DK, Dotti G, Metelitsa LS. (2023)
Anti-GD2 CAR-NKT cells in relapsed or refractory neuroblastoma: updated phase 1 trial interim results.
Nat Med
[Epub ahead of print]. [
abstract
]