University of Zürich researchers have developed pipeComp, a flexible R framework for pipeline comparison handling interactions between analysis steps and relying on multi-level evaluation metrics. The researchers apply it to the benchmark of single-cell RNA-sequencing analysis pipelines using simulated and real datasets with known cell identities, covering common methods of filtering, doublet detection, normalization, feature selection, denoising, dimensionality reduction, and clustering. pipeComp can easily integrate any other step, tool, or evaluation metric, allowing extensible benchmarks and easy applications to other fields, as the researchers demonstrate through a study of the impact of removal of unwanted variation on differential expression analysis.
Overview of the pipeComp framework and its application to a scRNAseq clustering pipeline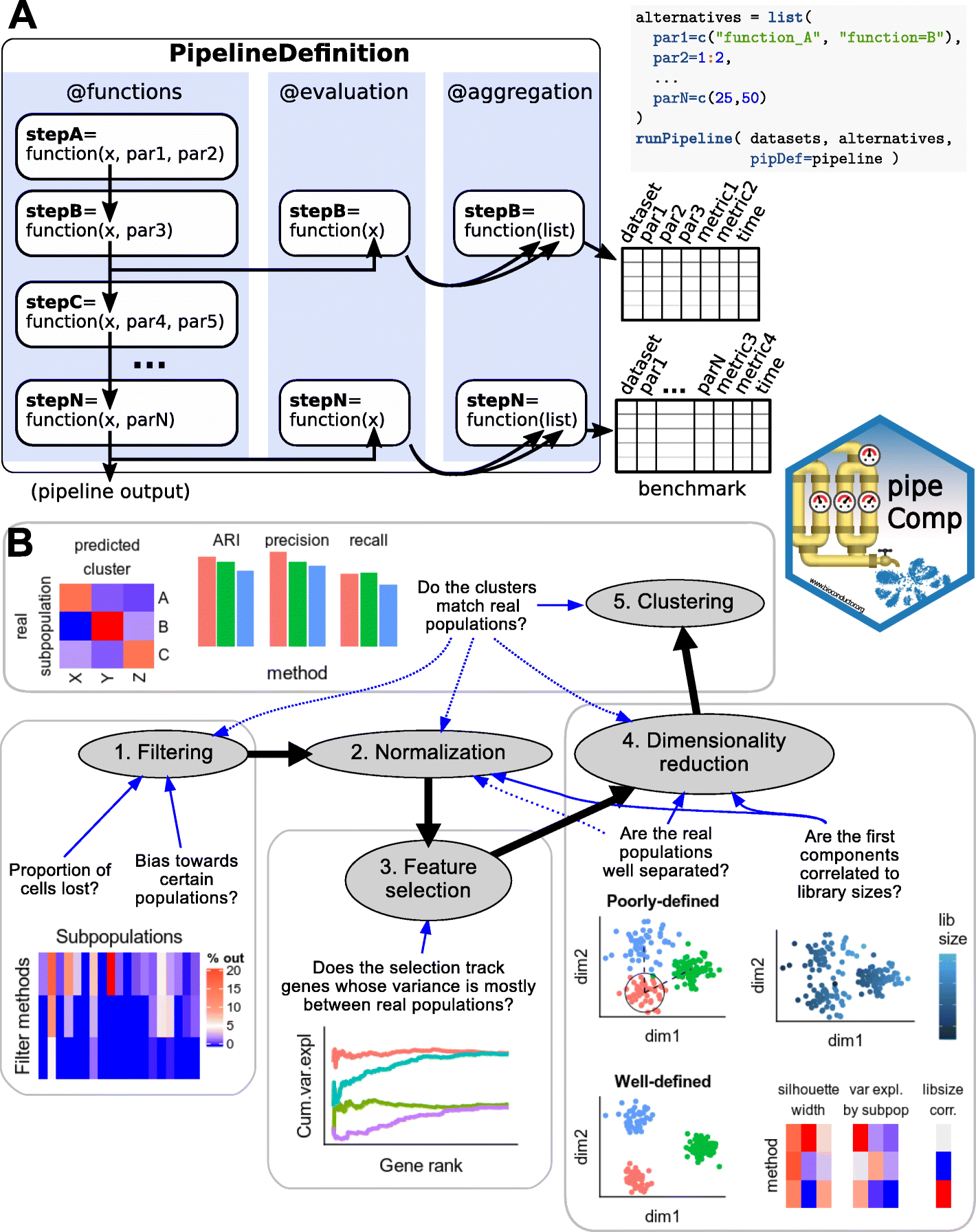 a The package is built around a PipelineDefinition class which defines a set of functions to be executed consecutively, as well as optional evaluation functions for each step. Each step can accept a number of parameters whose alternative values are provided as a list. All (or subsets of) combinations of parameters can then be simultaneously ran and evaluated using the runPipeline function. b Scheme representing the application of pipeComp to evaluate a range of methods that are commonly used in scRNAseq studies and some of the metrics monitored at various steps
Availability – pipeComp is avalilable at:https://github.com/plger/pipeComp
Germain P, Sonrel A, Robinson, MD. (2020) 
pipeComp, a general framework for the evaluation of computational pipelines, reveals performant single cell RNA-seq preprocessing tools
.
Genome Biol
21, 227. [
article
]