Single-cell RNA-seq (scRNA-seq) is a powerful genomics technology to interrogate the cellular composition and behaviors of complex systems. While the number of scRNA-seq datasets and available computational analysis tools have grown exponentially, there are limited systematic data sharing strategies to allow rapid exploration and re-analysis of single-cell datasets, particularly in the cardiovascular field.
University of Virginia researchers previously introduced PlaqView, an open-source web portal for the exploration and analysis of published atherosclerosis single-cell datasets. Now, they introduce PlaqView 2.0 which provides expanded features and functionalities as well as additional cardiovascular single-cell datasets. The researchers showcase improved PlaqView functionality, backend data processing, user-interface, and capacity. PlaqView brings new or improved tools to explore scRNA-seq data, including gene query, metadata browser, cell identity prediction, ad hoc RNA-trajectory analysis, and drug-gene interaction prediction. PlaqView serves as one of the largest central repositories for cardiovascular single-cell datasets, which now includes data from human aortic aneurysm, gene-specific mouse knockouts, and healthy references. PlaqView 2.0 brings advanced tools and high-performance computing directly to users without the need for any programming knowledge. Lastly, the researchers outline steps to generalize and repurpose PlaqView's framework for single-cell datasets from other fields.
Overview of data processing and programmatic strategy for PlaqView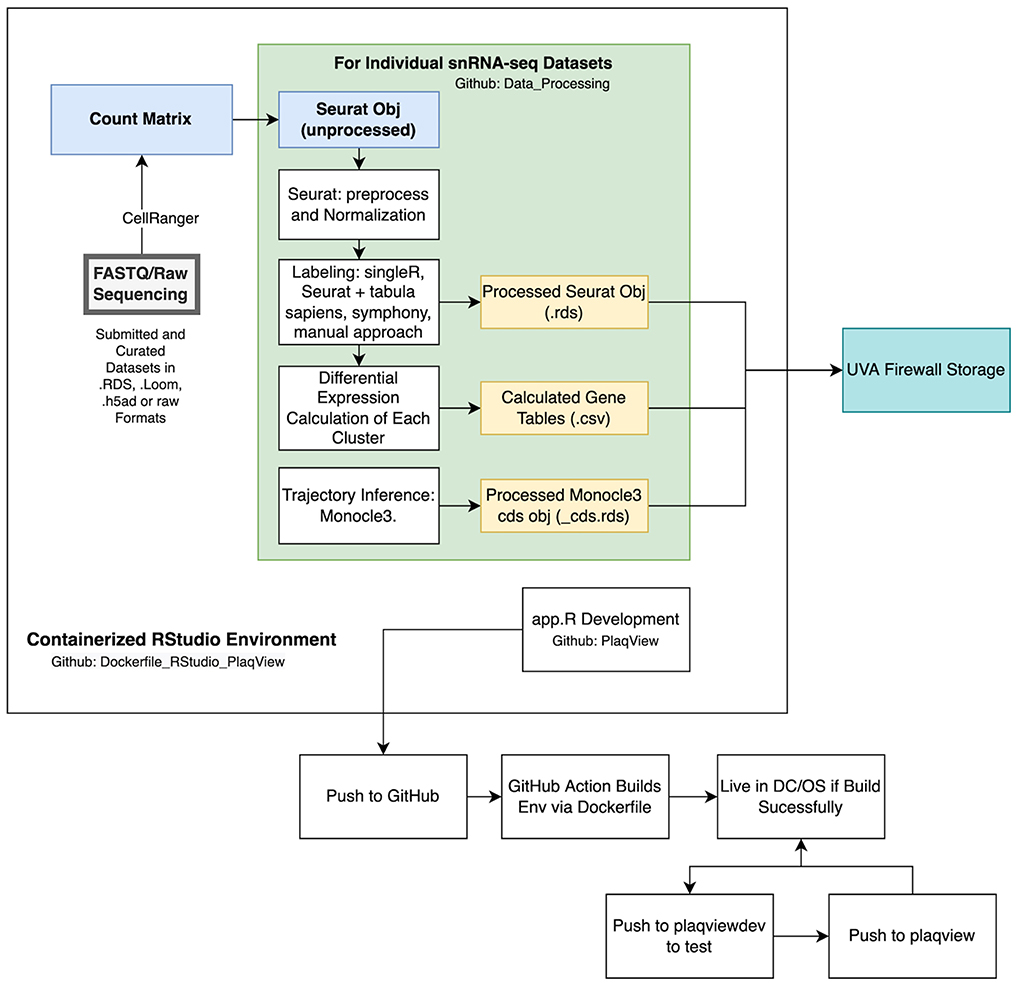 Data submitted to PlaqView are processed systematically and stored as Seurat.rds objects. These objects, along with calculated differential gene expression tables and trajectories, are stored in secured storage provided by the University of Virginia. Additionally, app development and data processes are all conducted in a cataloged, stable Docker RStudio environment that is registered both on GitHub and DockerHub.
Availability – www.plaqview.com
Ma WF, Turner AW, Gancayco C et al. (2022)
PlaqView 2.0: A comprehensive web portal for cardiovascular single-cell genomics
.
Front Cardiovasc Med
[Epub ahead of print]. [
article
]