The rise of modern gene expression profiling techniques, such as RNA-Seq, has generated a wealth of high-quality datasets spanning all fields of current biological research. The large data sets and the continually expanding applications for which they can be mined, such as the investigation of alternative splicing and others, have created novel challenges for data management, exploration, analysis, and visualization. Although a large variety of RNA-Seq data analysis software packages has emerged, both open-source and commercial, most fail to simultaneously address the above challenges, while they lack obvious functionalities, such as estimating RNA abundance over non-annotated genomic regions of interest in real time.
Researchers at the Biomedical Sciences Research Center 'Alexander Fleming' and the National Technical University of Athens have developed SeqCVIBE, an R Shiny web application for the interactive exploration, analysis, visualization, and genome browsing of large RNA-Seq datasets. SeqCVIBE allows for multiple on-the-fly visualizations and calculations, such as differential expression analysis, averaging genomic signals over specific regions of the genome, and calculating RNA abundances over custom, potentially non-annotated regions, such as novel long non-coding RNAs. In addition, SeqCVIBE comprises a database for pre-analyzed data, where users can navigate and explore results, as well as perform a variety of basic on-the-fly analyses and export the outcomes. Finally, the researchers demonstrate the value of SeqCVIBE in the elucidation of the interplay of a novel lincRNA, WiNTRLINC1, and Wnt signaling in colon cancer.
The different layers of SeqCVIBE (database and storage, compute and service, user interface) with their components, a summary of their functionalities, and the communication between them.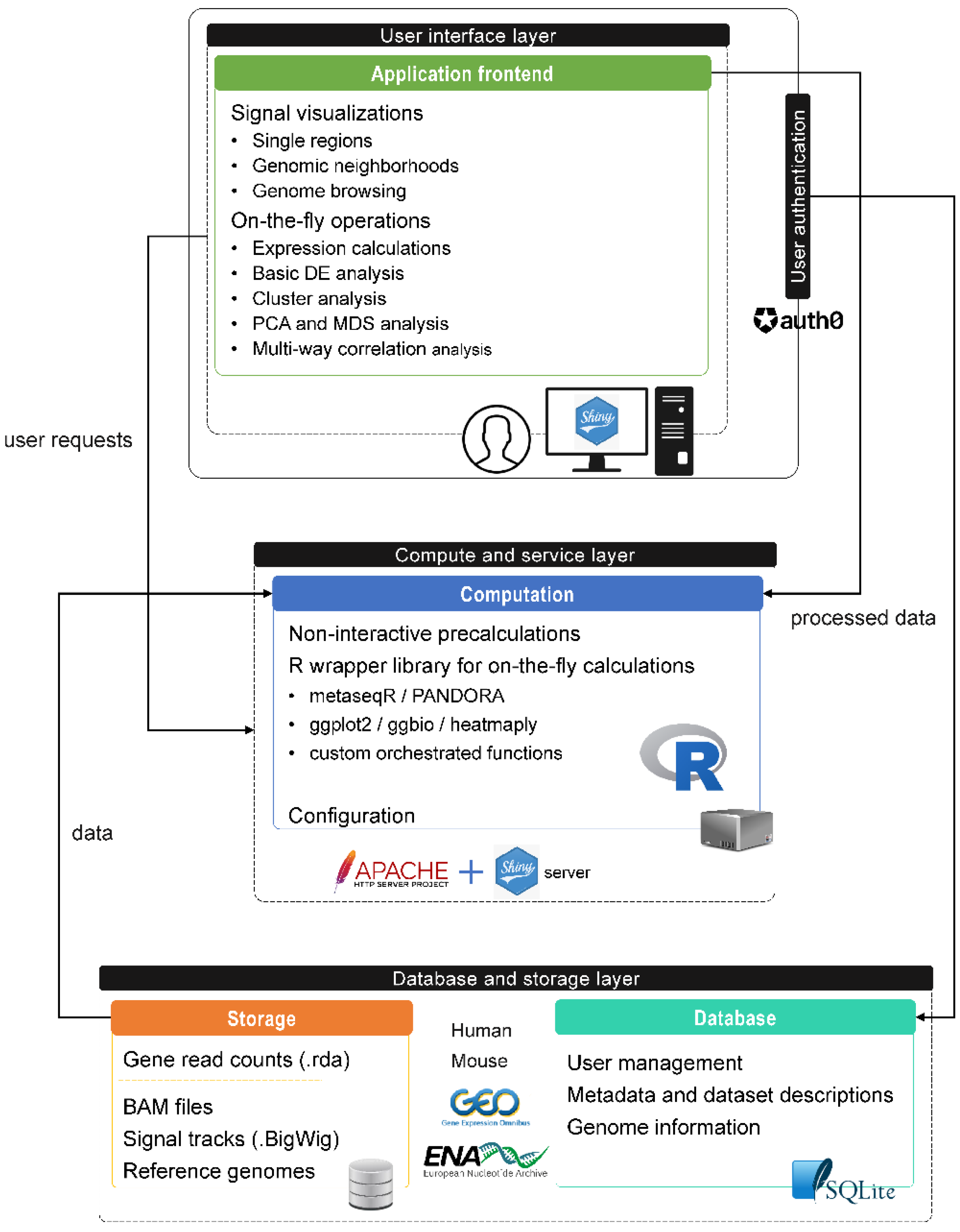 Bothos E, Hatzis P, Moulos P. (2022)
Interactive Analysis, Exploration, and Visualization of RNA-Seq Data with SeqCVIBE.
Methods Protoc
5(2):27. [
article
]