Pancreatic ductal adenocarcinoma (PDAC) is projected to be the second leading cause of cancer mortality by 2030. Bulk transcriptomic analyses have distinguished 'classical' from 'basal-like' tumors with more aggressive clinical behavior. Researchers at the Charité-Universitätsmedizin Berlin and DKFZ derived PDAC organoids from 18 primary tumors and two matched liver metastases, and showed that 'classical' and 'basal-like' cells coexist in individual organoids. By single-cell transcriptome analysis of PDAC organoids and primary PDAC, the researchers identified distinct tumor cell states shared across patients, including a cycling progenitor cell state and a differentiated secretory state. Cell states are connected by a differentiation hierarchy, with 'classical' cells concentrated at the endpoint. In an imaging-based drug screen, expression of 'classical' subtype genes correlates with better drug response. These results thus uncover a functional hierarchy of PDAC cell states linked to transcriptional tumor subtypes, and support the use of PDAC organoids as a clinically relevant model for in vitro studies of tumor heterogeneity.
Intertumor heterogeneity in patient-derived PDAC organoids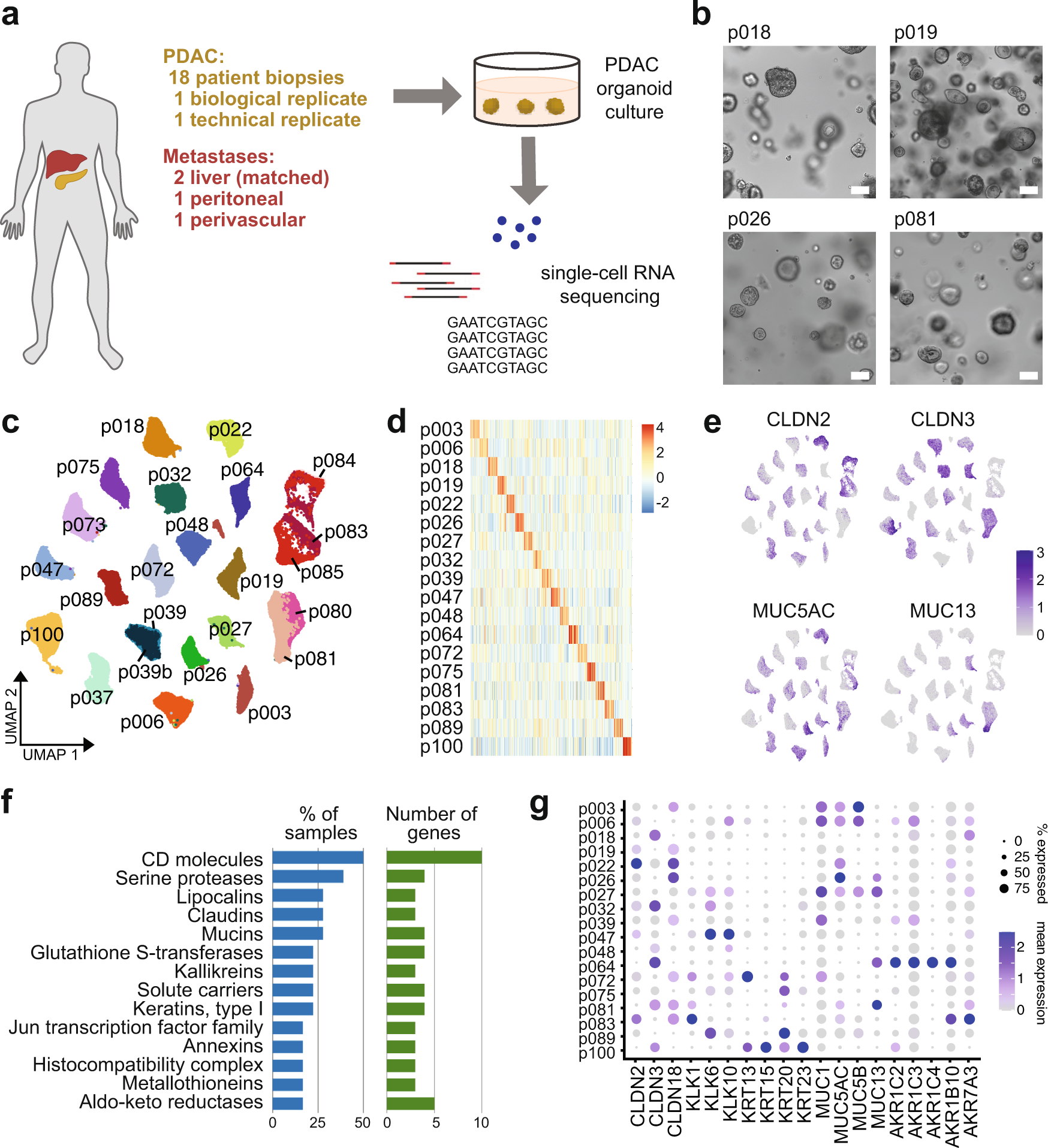 a Schematic of the experimental workflow. b Example images of four patient-derived PDAC organoid lines after 10 days of culture. Scale bars, 100 µm. c UMAP embedding of 24 scRNA-seq samples from 18 patients, showing that cells cluster by patient origin (p039 is a technical replicate of p039b; p080 is a biological replicate of p081; p084 and p085 derive from liver metastases matched to p083). d Heatmap showing the expression of the 20 most highly differentially expressed genes per patient. e Expression of selected patient-specific genes, using the same UMAP representation as in (c). f Gene group analysis of the 20 most highly differentially expressed genes per patient. Bar plots show the proportion of patients in which the indicated gene groups were overrepresented (blue), and the number of unique genes from each gene group (green). g Expression of selected patient-specific genes across all patients.
Krieger TG, Le Blanc S, Jabs J, Ten FW, Ishaque N, Jechow K, Debnath O, Leonhardt CS, Giri A, Eils R, Strobel O, Conrad C. (2021)
Single-cell analysis of patient-derived PDAC organoids reveals cell state heterogeneity and a conserved developmental hierarchy
. Nat Commun 12(1):5826. [
article
]