Alzheimer's disease (AD)-like cognitive impairment, a kind of Neuro-COVID syndrome, is a reported complication of SARS-CoV-2 infection. However, the specific mechanisms remain largely unknown. A team led by researchers at Beihang University integrated single-nucleus RNA-sequencing data to explore the potential shared genes and pathways that may lead to cognitive dysfunction in AD and COVID-19. The researchers also constructed ingenuity AD-high-risk scores based on AD-high-risk genes from transcriptomic, proteomic, and Genome-Wide Association Studies (GWAS) data to identify disease-associated cell subtypes and potential targets in COVID-19 patients. They demonstrated that the primary disturbed cell populations were astrocytes and neurons between the above two dis-eases that exhibit cognitive impairment. They identified significant relationships between COVID-19 and AD involving synaptic dysfunction, neuronal damage, and neuroinflammation. These findings may provide new insight for future studies to identify novel targets for preventive and therapeutic interventions in COVID-19 patients.
Overall landscape of cells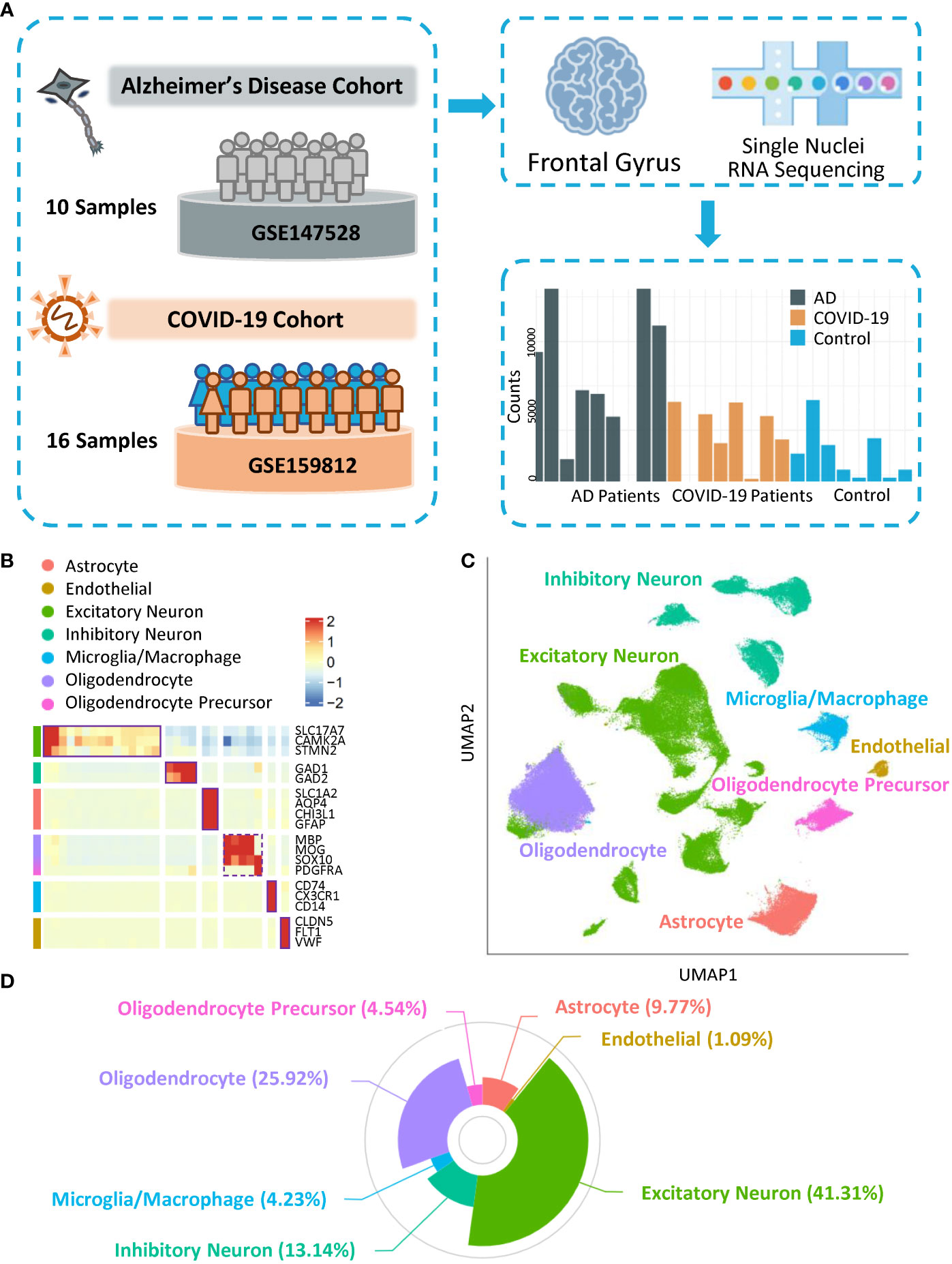 (A) Schematic of datasets from COVID-19 and Alzheimer's Disease Cohorts. (B) Heatmap showing the expression of signature genes in the cells. (C) UMAP visualization of the cell clusters. (D) Composition of each subtype of cells.
Fu Y, Guo Z, Wang Y et al. (2022)
Single-nucleus RNA sequencing reveals the shared mechanisms inducing cognitive impairment between COVID-19 and Alzheimer's disease.
Front Immunol
[Epub ahead of print]. [
article
]