Since 2016, scientists at The Feinstein Institutes for Medical Research have studied the genetic and cellular makeup of menstrual blood or menstrual effluent (ME) to diagnose endometriosis. Today they published a new study in Springer Nature's BMC Medicine that shows their ability to use ME to identify patients who may have endometriosis.
Endometriosis occurs when uterine-like tissues grow outside of the uterus and form lesions. The condition affects one in 10 reproductive-age females, resulting in chronic, often debilitating pain or infertility and other medical complications. Due to the lack of non-surgical diagnostic tools, it can often take seven to 10 years to be diagnosed with endometriosis. Currently, invasive laparoscopic surgery is the only definitive diagnostic method.
Building off more than seven years of research, the new study published in BMC Medicine outlines the first use of single-cell RNA-sequencing (scRNA-Seq) to compare endometrial tissues in freshly collected ME from 33 study participants.
"Millions of adolescents and women suffer from endometriosis without a proper diagnosis, delaying their care and extending their pain," said Dr. Metz, professor in the Institute of Molecular Medicine at the Feinstein Institutes and co-director of Research OutSmarts Endometriosis (ROSE) study. "This new paper describes the potential for a novel screening tool to identify endometriosis earlier and enable patients to get the help they need."
The published study shows for the first time that the characteristics of endometrial tissue that shed into ME are distinct in patients with endometriosis compared to control (healthy) subjects.
Distinct cellular composition differences in digested ME from endometriosis cases vs. controls are revealed by scRNA-Seq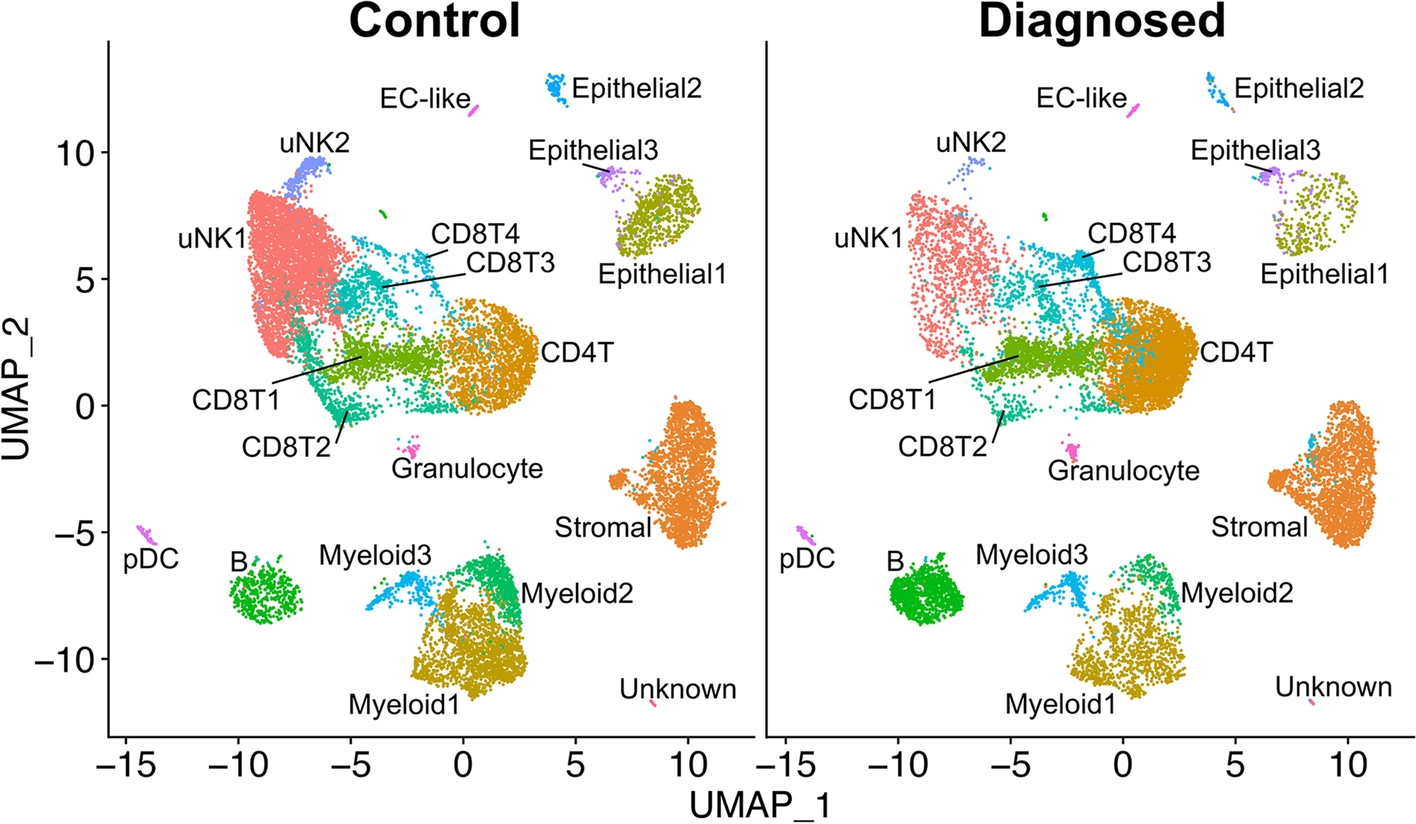 The data taken from the UMAP plot is separated into two groups: controls (n = 9, providing 14,327 cells) and endometriosis cases (n = 11, providing 11,924 cells). The most striking difference is the increased fractions of uterine NK cells (uNK1 and uNK2) in the endometrial tissues of controls as compared to cases. In contrast, B cells are significantly enriched in cases. 
When combined with clinical symptoms, there is a potential to use ME to screen or diagnose adolescents and women who may be suffering with symptoms of endometriosis.
"ROSE study research helps us understand the molecular and genetic makeup of endometrial tissues in ME from women with endometriosis," said Dr. Gregersen, professor in the Institute of Molecular Medicine at the Feinstein Institutes and co-director of the ROSE. "More than 2,000 women have participated in the ROSE study to date and we are grateful to them for helping us to produce knowledge that will improve patients' lives."
In order to further validate these findings, the team has recently initiated a new clinical trial to compare ME from symptomatic women who have not been diagnosed but will undergo the necessary surgery as part of their standard care to determine if they have the condition.
Studies are also underway to investigate ME in symptomatic and non-symptomatic adolescents to predict endometriosis at earlier ages and stages.
"While endometriosis is a common condition, there continues to be a lack of diagnosis and proper early intervention," said Kevin J. Tracey, MD, president and CEO of the Feinstein Institutes. "These important findings by Drs. Gregersen and Metz hold promise to change our understanding of this disease and focus on improving the diagnosis and care they need."
Source – The Feinstein Institutes for Medical Research
Shih AJ, Adelson RP, Vashistha H, Khalili H, Nayyar A, Puran R, Herrera R, Chatterjee PK, Lee AT, Truskinovsky AM, Elmaliki K, DeFranco M, Metz CN, Gregersen PK. (2022)
Single-cell analysis of menstrual endometrial tissues defines phenotypes associated with endometriosis
.
BMC Med
20(1):315. [
article
]