Time & Date
Tuesday, February 16, 2021
5pm to 6:30 pm
Contact
Henry Miller
The Bioformatics Interest Group is proud to present Bioinformatics Bootcamp Advanced Topics: Single Cell RNA-Seq. This free 6-week workshop will teach attendees how to analyze and interpret single-cell RNA-Sequencing data, culminating in a supervised miniproject. The workshop will take place over Zoom from 5-6:30PM on Tuesdays from Feb. 9th to Mar. 16th.
Class will meet every Tuesday from 5-6:30 PM starting Feb 9th through Mar 16th (6-weeks). The class syllabus and course materials can be found here: https://github.com/bigbioinformatics/single_cell_rna_seq_workshop
It is expected that you already have experience with basic R Programming and RNA-Seq analysis. If you need to catch up on this background knowledge, please view the workshop materials and lecture recordings from our Fall 2020 Bioinformatics Bootcamp (link: https://uthscsa.box.com/s/bq936da9strq5u8g42y8sc9ppj3mq1jt).
This is the signup link: http://tiny.cc/single-cell-bootcamp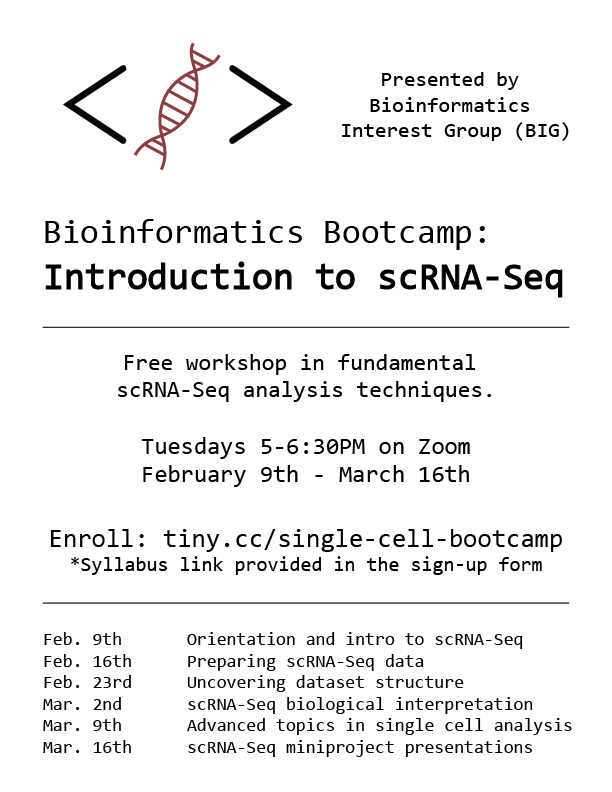 LEARN MORE