Single-cell analysis provides novel insights into elements of CAR T cell toxicities and response.
Initial analyses of patients' apheresis samples and CAR T cell products, largely by flow cytometry, have identified key phenotypic markers associated with a patient's response. Specifically, markers that demonstrate increased T cell exhaustion, which leads to a progressive decrease in T cell potency, have been associated with dysfunctional responses. Conversely, the presence of naive or early memory T cells that may have better T cell potency correlates with an improved clinical response, and depletion of these subtypes results in poor T cell expansion. These studies highlight the implications of T cell phenotypes in association with anti-tumor efficacy. Single-cell analysis platforms, such as single-cell RNA sequencing (scRNAseq), facilitate deeper analysis, which can potentially lead to the identification of small, previously underappreciated populations that may be clinically relevant and provide insight into the molecular details of why some people respond or have more-severe toxicities, while others do not.
Researchers from MD Anderson Cancer Center performed whole-transcriptome scRNAseq of infusion products (including CAR T cells and non-transduced T cells) for 24 patients with large B cell lymphoma. In their study, at 3 months after infusion, 14 patients had a partial response or progressive disease, 9 patients had a complete response, and 1 patient was not eligible for analysis. They found that patients with a partial response or progressive disease showed enrichment for exhausted CD8+ T cells, and patients who achieved complete response showed enrichment for memory T cells. Moreover, in those with disease at a higher stage, there was reduced expression of markers consistent with memory T cells, which has also been associated with worse outcomes.
Understanding the diversity of responses to CD19 CAR T cells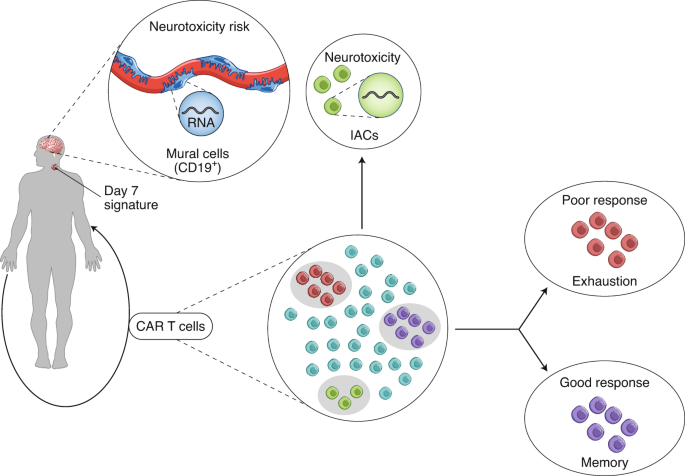 The researchers were able to identify, through a multidimensional approach, that a response to CD19 CAR T cell therapy correlated with a specific signature at day 7, and that response and toxicity were linked to specific populations of cells found in the infusion product4. Parker et al. showed that neurotoxicity may also be mediated by a specific population of CD19+ mural cells that may be targets of CD19-directed CAR T cells5. IACs, ICANS (immune effector cell–associated neurotoxicity syndrome)-associated cells.
Ramakrishna S, Shah NN. (2020)
Using single-cell analysis to predict CAR T cell outcomes
.
Nat Med
26(12):1813-1814. [
article
]