Gerbera daisies are popular worldwide for their wide array of brightly colored flowers. They also make great plants for the garden, and their blooms yield long-lasting cut flowers. Many newlyweds use cut gerbera flowers to decorate their wedding ceremonies.
Gerbera daisies also are increasingly used as garden, bedding, patio and indoor plants. Cut flower gerberas in the United States generated a wholesale value of $32 million in 2015. Many greenhouse growers and nurseries grow gerberas as part of their business.
They're so important that University of Florida scientists are trying to find out how to breed gerbera daisies that can resist a ruinous disease known as powdery mildew. It's the plant's most common and devastating disease.
"When gerbera plants and flowers contract powdery mildew, growers usually rely on repeatedly spraying pesticides to suppress the disease," said Zhanao Deng, a UF/IFAS environmental horticulture professor and plant breeder. "But there are few options for gardeners and consumers except seeing their beautiful gerbera flowers rapidly becoming unsightly."
Deng and Krishna Bhattarai — who at the time was a doctoral student in the department of environmental horticulture at the UF/IFAS College of Agricultural and Life Sciences — led a study on the topic.
In the newly published UF/IFAS study, a research team used RNA sequencing to find genes that scientists believe will help breed more resistance to powdery mildew in gerbera daisies.
Here's what they found:
494 gene transcripts from gerbera disease resistance genes, including some that will likely help gerbera resist the disease.
Four gene transcripts that may make gerbera more susceptible to powdery mildew.
Tens of thousands of nucleotide sites that are different among gerbera varieties.
Scientists say their findings ease their ability to develop new molecular tools (DNA markers, genetic maps) and to clone disease-resistance genes. It's an important first step to thwart a disease that can devastate gerbera, said Deng, a faculty member at the UF/IFAS Gulf Coast Research and Education Center.
Heat map of relative expression level (FPKM values)
of 17 upregulated and 24 downregulated transcripts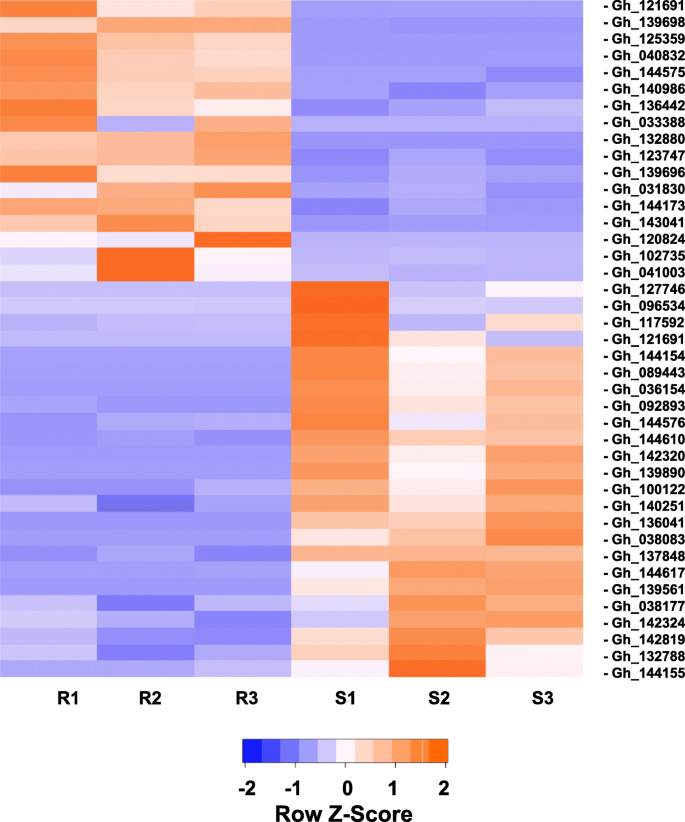 These transcripts were functionally annotated to confer disease resistance based on BLAST analysis in powdery mildew resistant (UFGE 4033) and susceptible (06–245-03) gerbera breeding lines. Samples R1-R3 and S1-S3 were three biological replicates of UFGE 4033 (R) and 06-245-03 (S) lines, respectively
This study, supported by a grant from the UF/IFAS Plant Breeding Graduate Initiative, is the first analysis of the gerbera leaf transcriptomes that gives scientists, growers and the ornamental plant industry insight into how the plant might resist powdery mildew, Deng said. That's a crucial yet complex genetic trait in a globally important floral crop, he said. A transcriptome is the total of all the RNA molecules expressed from the genes of an organism.
Powdery mildew strikes gerbera daisies in high humidity and moderate temperatures (between 68 and 82 degrees). Shade can also foster this fungal disease. When the fungus ravages gerbera, patches of white mildew form on leaves and flowers and spread quickly. Affected plant parts look ugly, lose leaves and flowers, and may die. Your local UF/IFAS Extension office can recommend pesticides and strategies for managing this problem.
Meanwhile, Deng and his research team can foresee a time when powdery mildew no longer damages the lovely flowers.
"New molecular tools and disease-resistance genes from this study and future research of a similar nature will help breeders develop better gerbera varieties for growers, packers, shippers, florists and ultimately, customers," he said.
Source – University of Florida
Bhattarai K, Conesa A, Xiao S, Peres NA, Clark DG, Parajuli S, Deng Z. (2020)
Sequencing and analysis of gerbera daisy leaf transcriptomes reveal disease resistance and susceptibility genes differentially expressed and associated with powdery mildew resistance.
BMC Plant Biol
20(1):539. [
article
]